We Design, Develop, and Deliver Resilient Solutions for the Modern Enterprise
Focus
NDi serves organizations across US Federal, DoD, Civilian, and IC communities. We partner with large defense industrial organizations, government prime contractors, OEMs, and niche technology companies. Our core competencies are Cyberspace Ops & Resiliency, Secure Comms & Networking, DevSecOps, Enterprise Apps, Data & Information Management, Digital Communications, and Strategic Marketing.
Trust
NDi is called on as an Essential Partner and Trusted Advisor to provide thought leadership, subject matter expertise, and experienced IT professionals. We strive to understand our customers' mission -from their perspective – so that we can assure certainty of results. Each interaction with our stakeholders is best-in-class and represents over a quarter century of successfully serving the government.
Expertise
NDi's portfolio of capabilities represent a unique combination of creative minds and deep technical competencies. Our professionals apply their mastery of skills, experience, and certifications combined with industry-accepted frameworks, standards, and compliance requirements to integrate the right technologies and realize client objectives.
Resilience
NDi demonstrates resilience through our ability to adapt to constant change and harness opportunities for our client's advantage. We apply innovation, advanced processes, and continuous risk identification and mitigation to assure our client's resilience so they can "take a punch," rebound quickly and capitalize on new opportunities.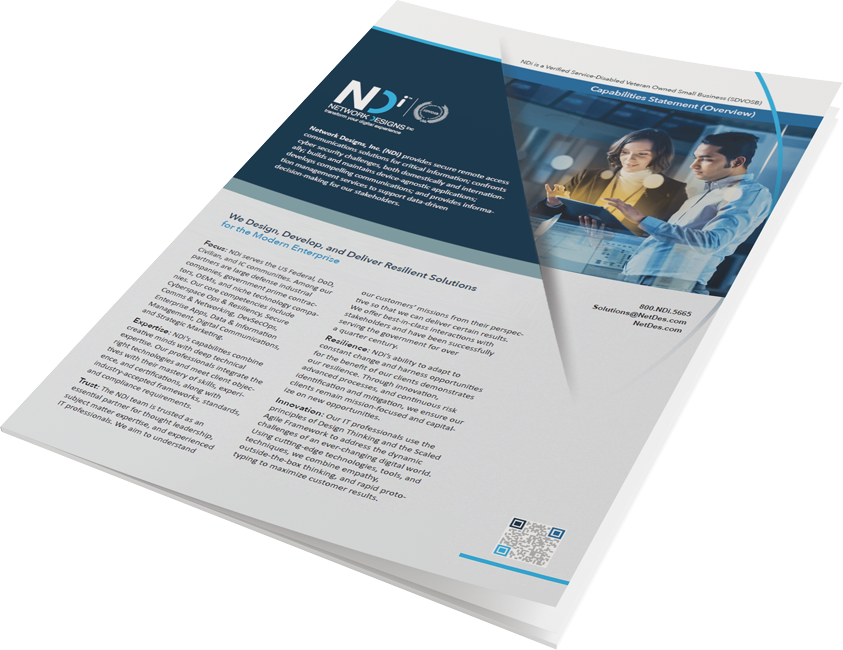 Download NDi Corporate Information Sheet
Innovation
NDi's IT professionals apply the principles of Design Thinking – combining empathy, outside-the-box thinking, and rapid prototyping with leading edge technologies and techniques to meet the dynamic challenges of a constantly evolving digital world. We remain focused on our customer's view of value from solution concept to delivery in order maximize results and achieve innovative ROI results.
To be transformative, one must master change and harness it for advantage.
— Anthony Zeruto, NDi CEO